Body Fly: A new, fresh and fun way of exercising and practicing yoga.
Body Fly is a dance inspired approach to aerial yoga. It is combining the benefits of the world's finest methods such as traditional Yoga, Pilates, Dance, Aerial Acrobatics and Climbing.
It is a workout that integrates and profoundly mobilizes full body and mind in a holistic way. By practicing Body FlyⓇ, you empower yourself to maintain your physical fitness while balancing your mind.
Body Fly puts high focus and commitment on proper alignment, preventing common injuries that can occur with most other aerial fitness methods.
What is BFIA – Body Fly International Academy?
Since 2010, Body Fly International Academy (formerly Yoga Fly) is recognized as a leading organization in regards to education, training and development of a Dance and Pilates inspired approach to aerial Yoga and Fitness.
The purpose of Body FlyⓇ International Academy is to develop aerial fitness activities throughout the world in favor of class participants, instructors and our affiliated centers.
The Body FlyⓇ International Academy for Professionals (BFIA) is an association that offers professional training and promotes:
The professional international development of aerial fitness practice by relying on very specific criteria and training content.
 To standardize procedures for training and education so that  practitioners receive the same quality of training regardless of the center where they practice.
To develop an international professional network of instructors and high level facilities, every one of them offering a controlled high-quality training. This is not only in favor of occasional practitioners, but also in favor of the trainers of facilities who are offering this activity.
Become a professional now
The History of Body Fly
BodyFly has started out under the name of YogaFly by Patricia Duchaussoy in 2009 at the Pilates Station Bangkok, Thailand.
Thereafter, Yoga Fly has become famous and widely recognized in very short time. All major TV channels and mainstreaming magazines in Thailand have reported about YogaFly by Patricia Duchaussoy.
Since then, many people around the world have picked up to practice aerial fitness. The supply and demand for YogaFly-alike classes has increased very fast.
In this growing environment, Body Fly International Academy was created. An organisation, which provides a legal and educational framework, that is fundamental to the coherent development and the serious recognition of this activity worldwide.
BodyFly is setting the most advanced standards for instructors and facilities in terms of professionalism and safe conduct of aerial classes.
BodyFly Instructors are trained in compliance with these high standards. They are gathered in a network of professionals, supporting continuous education and exchanging state-of-the-art knowledge to constantly improve and maintaining the high quality of the method.
Patricia Duchaussoy: Founder of Body Fly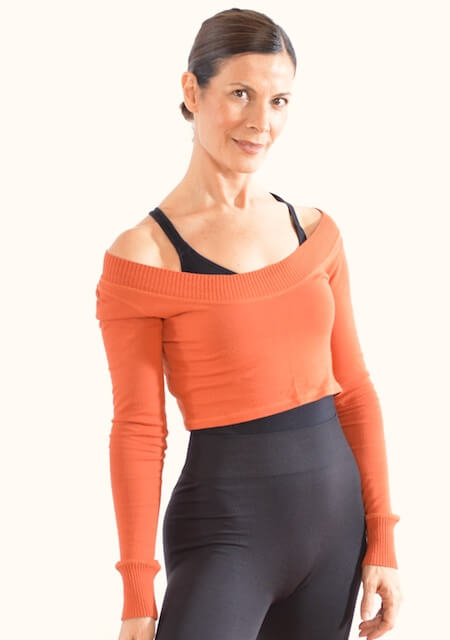 Patricia Duchaussoy, Founder of YogaFly and the Body Fly Method
Patricia Duchaussoy is a professional dancer since over 35 years, a Pilates senior master instructor and the creator of the YogaFly™ Method. While performing for dance companies in Paris and London, she was introduced to the Pilates Method through Alan Herdman, an exponent of Joseph Pilates' authentic technique and leading practitioner in the UK. Thereafter, she became a certified Romana's Pilates Instructor and certified STOTT Pilates Instructor.
As an enthusiastic pioneer in the field of body movement, Patricia was the first person to bring Pilates to the people of Thailand in 2001. In her Bangkok studio "The Pilates Station", Patricia has helped thousands of people to improve their posture and condition their body. Her years of experience and commitment to quality have made her one of the most highly regarded instructors in the area.
In 2009, Patricia was inspired to create the YogaFly™ method, a contemporary approach that combines Yoga, Pilates and aerial dance. Thanks to the quality of her teaching and the rigor of her method, the new discipline was quickly met with passionate enthusiasm. People from all over Thailand, South-East Asia, France and various European countries take part in her trainings and bring the know-how back home. That's when she realizes that her method is reproduced, distorted, transformed and gradually losing any educational consistency, becoming sometimes even dangerous. Therefore, she was seeking a solution that would allow a uniform professional supervision at the international level.